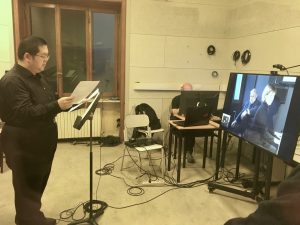 As announced by the Coordinator, Professor Christen Teglbjaerg, the online blended course "Mastering Vocal Literature in Foreign Languages" has now been launched, and will continue until March 6 2020, ending up  with a concert at the Milan  G. Verdi Conservatory of Music.
The course represents one of the seven intellectual outputs within the INTERMUSIC project and includes 15 participating students, 5 from each of the three partner Music Academies, CONSMI, LMTA and RDAM.
After the self-learning stage on the INTERMUSIC plaform, students are now interacting with the teachers of the three academies, Prof. Eva Hess Thaysen (Royal Danish Academy), Prof. Algirdas Janutas (Lithuanian Academy) and Prof. Stelia Doz (Milan G.Verdi Conservatoire). One-to-one online classes have taken place in a three-days intensive session (12, 13 and 14 February).
The residential session will take place in Milan at the G. Verdi Conservatoire, where teachers and students will meet in a five-days live work session.
Watch below a clip from an online session.